Hello All!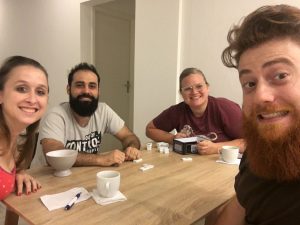 Merry (late) Christmas and Happy (also late) New Year!! I pray this finds you well and enjoying some of the cooler months on my behalf, as we have officially hit the hot season here. As I went for my walk at 8 pm, it was still a whopping 97 degrees!! Needless to say, it was a little warm. 🙂 I was thankful for some cooler temps we had this past weekend and found myself putting on a sweatshirt when it got down to 76. Haha! The Michigander inside might be slowly dying…
December has come and gone, and January is now coming to a close as well! But I'll fill you all in on what the months had in store.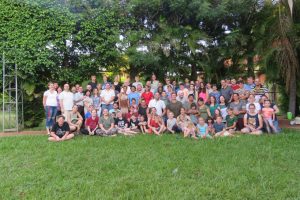 NTM Paraguay has our annual conference every year the second week of December down past Asuncion, about 7 hrs away, so I headed down for that, and was encouraged to be able to see other missionaries from our organization (and a few from others as well…) who live in other parts of the country. I was thankful to be able to take the time to be refreshed with others in the Word, as well as have some much-needed time with people, as I don't always seem to get lots of that in life these days, to swap stories of struggle and God's good and faithful hand.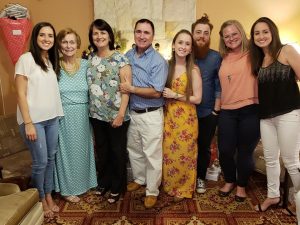 When conference was done, I was able to stay in Asuncion to get some lovely time with my Paraguayan host family, as well as my friends. I am so very blessed and loved on by them and was so thrilled the Lord allowed me to be with them for both Christmas and New Year's. They really have welcomed me into their family as one of their own, and so it is a joy to be with them for the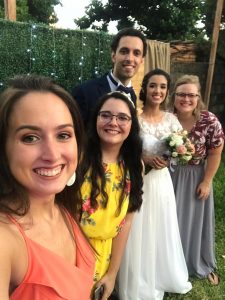 holidays. I stayed in town through the 12th of January, as one of my very good friends from my time living in Asuncion, got hitched!! In between conference, holidays, and the wedding, the Lord filled up my calendar with drs appointments, meetings/catching up with people who I don't get to see when I'm in Filadelfia, and even gave me the opportunity one night to share about my ministry among the Enlhet at a week-long mission's camp aimed at young people. It was fun to make them try and say a few words in Enlhet, and I think they enjoyed trying to. 😉
These days life continues on as it had before my trip t
o Asu, and now that the looooong grass has been mowed, I am unpacked, and the house has been cleaned from the (seems like) inches of dust and dead bugs that had taken over in my absence, I am back to hitting the books with the language and culture, and building relationships with the Enlhet ladies.
As life continues on, I can't help but continue to be reminded of a word that the Lord hammered home to me this Christmas season.
Immanuel.
The God of the world humbled Himself to be born a babe to reconcile us. To give us the opportunity to live with Him forever. To be able to cling to the promise of His name and who He is, "God with us".
When I am feeling alone, living thousands of miles from family and friends, don't have co-workers yet, and am still working on my new relationships with my Enlhet friends, I can remember Him …
Immanuel.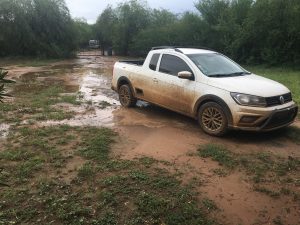 When life is hard sometimes, things in ministry aren't going as planned, and there are impossible tasks ahead of me …
Immanuel.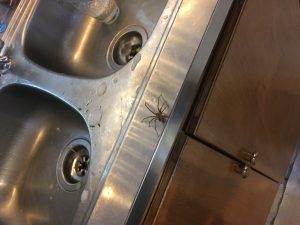 When I am beaten down and worn, needing rest and relief from hurtful words, infection after infection taking over my body, high expectations that can't be delivered, hot temperatures, and the endless stream of spiders and baby scorpions coming in my house feeling like I just don't have anything left …
Immanuel.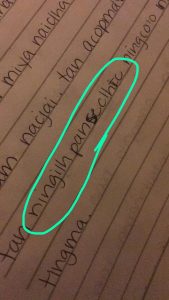 When I am studying, working hours and hours to learn just one word (cause sometimes words with 17 and more letters are kind of hard to learn…), barely squeaking out a few baby sentences, doubting that I have what it takes to learn this intricate language, making me second guess how in the world I will ever get to the point to share the Truth with these people in a way that they will understand it …
Immanuel.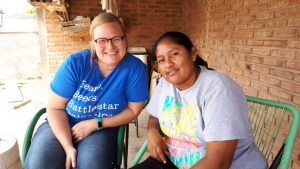 When I get to see the look of joy on my new Enlhet friend's face, because we are finally seeing each other for the first time in over a month, when we laugh together at my mispronunciations and the fact that it seems that I have "forgotten how to speak her language", and getting texts while away from another Enlhet friend and in her greeting calls me her friend, checking in to see how I'm doing …
Immanuel.
God with us.
I am not and never will be alone. He is ALWAYS there. He is the God of the impossible, making everything out of nothing. He is giving me rest and relief in Himself. He is the one who will do His work, and nothing I or anyone else can or cannot do can hinder that. HE builds friendships where there are language and culture barriers, making it seemingly impossible.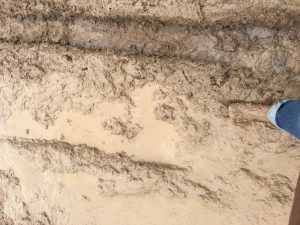 He is the One to lift up the faint hearted. He is the One who gets us out of bed another day, giving us yet another opportunity to walk with Him. He is the One in whom we find our strength and courage to continue on in the battle that is being waged against us and His church. He is the One, always working to conform each one of us into the image of His Son, Jesus Christ.
Immanuel. What a beautiful word. What a magnificent God.
Would you continue to pray with me for the Enlhet? That they would ALL one day come to know Him as Immanuel, recognizing the price He paid to be with them and reconcile them.
Would you pray for me? For my eyes and mind to continually be fixed on Immanuel, who is always at my side, never leaving me and always completing the work He started, trusting Him to accomplish the work and not trusting in myself and my feeble attempts, and for a willing heart that says (as Mary did in Luke 1:38), "Behold, I am the servant of the Lord; let it be to me according to your word."
And for Him to give me extra wisdom as I am learning the language and culture, and that I would love people like He loves, being able to grow more in my relationships with the Enlhet ladies. I would appreciate prayers as well, as I am looking to add at least one more lady to help in my weekly studying routine. As well as healing for my physical body – last year the slew of infections, getting hit by the car, and dealing with new anxieties and stressors have left me extra susceptible to yet more infections, added headaches, as well as just being worn down.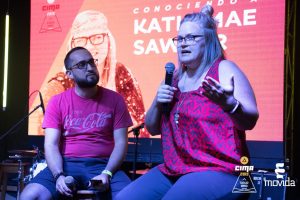 Would you pray for more workers for the harvest? I would love it if the Lord would gift me with co-workers to serve alongside to see the Enlhet have a mature church, loved on and discipled well. And there are still MANY people around the world dying without knowing Immanuel.