Fueling the Fire With Wrath
Romans 8: "37 No, in all these things we are more than conquerors through him who loved us. 38 For I am convinced that neither death nor life, neither angels nor demons, neither the present nor the future, nor any powers, 39 neither height nor depth, nor anything else in all creation, will be able to separate us from the love of God that is in Christ Jesus our Lord."
For the past few weeks, I have really been pondering the aspect of the Father's wrath. What that actually means, and how it plays itself out. I've mostly been thinking about how deserving I am of it. The amazing thing, is that I no longer have to face it. I've been stumped over and over again, trying to grasp the love that Christ had for me by taking all that wrath upon Himself so that I could live a life of salvation – from death, unto life, and with the Father. And not only does He love me, but He loves the WHOLE WORLD JUST AS MUCH AS HE LOVES ME. I'm thankful for these truths that I have learned over and over again. I'm so glad that I get the opportunity to once again see my Savior in a new, different, and awesome way every time I re-visit truths like this one. This truth about God's wrath is just adding more fuel to the fire – it's making me realize more and more the importance of taking His Truth to the people that have the least chance of ever hearing it. And once again, I'm humbled by the fact that He has given me the opportunity to move forward, sharing it with others.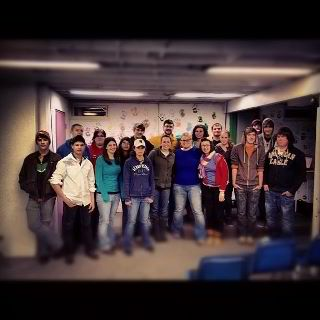 I was stoked too, when at youth group last night, our youth pastor touched on this very subject. There is opportunities everywhere to speak the truth of Christ to those around us, and I happen to have the opportunity to work alongside some awesome people serving at Graham Church with some amazing teens, whom I love very dearly. Their passion for bringing Truth to their friends at school, standing up for the things that are good and right, and dedication to serving the Lord daily are so inspiring. I'm so happy to be able to know them, and I'm looking forward to seeing them grow up in Him!
Well, they must love me, too. 🙂 They threw me a goodbye (for a month) party!! They made a cake and brownies, prayed for me, and they even gathered some money to help support me on my trip!! See! I told you they were amazing! What an awesome youth group to be a part of – where they see their role in helping to take the Gospel to people who have never heard it before. I'm so thankful for them, and that the Lord has allowed me the time and energy to be a part of it!!
In other news, the Lord has provided over and above my needs! OH, PRAISE HIM! I feel very "spoiled" by Him. This trip has been so easy to plan, and everything has fallen into place so smoothly. It is obvious that His hand was guiding every detail the whole way. So, if my God can do that, I know He'll continue guiding me even when I hop on that plane Monday night (eeekk! better get packing!!), and He'll continue to guide me for the month, and I have no doubt that He will for the rest of my life.