Hello!
I realize that you have been on pins and needles waiting to hear (officially) that I have returned from Paraguay. 🙂 Well, I made it! My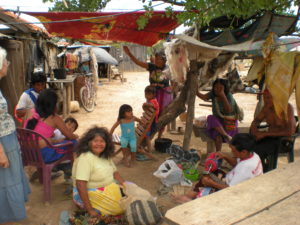 flight landed on Tues. morning, and I was greeted by my Dad, Sister, Niece, and Cousin. Since coming back I have been taking it kind of easy. I'm no expert on culture shock, but I'm thinking I may have experienced a bit coming back home!! Paraguay is very different from the United States. I love both, but they are very different from each other. 🙂
In church this morning, this section of scripture from Ephesians was shared, and I thought to myself, that is perfect! It describes exactly what I am feeling after my recent trip to Paraguay! It is from chapter 1:
"16 I have not stopped giving thanks for you, remembering you in my prayers. 17 I keep asking that the God of our Lord Jesus Christ, the glorious Father, may give you the Spirit of wisdom and revelation, so that you may know him better.18 I pray that the eyes of your heart may be enlightened in order that you may know the hope to which he has called you, the riches of his glorious inheritance in his holy people, 19 and his incomparably great power for us who believe. That power is the same as the mighty strength 20 he exerted when he raised Christ from the dead and seated him at his right hand in the heavenly realms, 21 far above all rule and authority, power and dominion, and every name that is invoked, not only in the present age but also in the one to come. 22 And God placed all things under his feet and appointed him to be head over everything for the church, 23 which is his body, the fullness of him who fills everything in every way."
While I was in Paraguay, I mostly spent time with Paraguayans who are Christians – people who already believe in the Truth of Scripture. I met so many of them there that love the Lord, and that desire to walk closely with Him, that their lives might be a reflection of His glory. But, I also spent some time with people who do not know the Truth, and I was able to see more the necessity to bring that Truth to the remote places in Paraguay.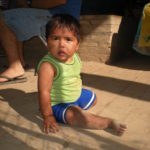 Without knowing the One that offers this hope, those people will never taste His goodness, be enlightened, or see His power.  They will never be able to know God and walk with Him. They will never have a life that is victorious over death.
So today, Easter Day, I was praising the Lord for the victory that He brought when He rose from the dead – and I am so thankful that He  LOVES ME, and I KNOW HIM, and that I have the privilege of spending eternity with Him! But, also what came to mind are those that don't know Him, and therefore do not have any hope of living forever with Him: those that cannot know Him and have nothing to hope in because they do not know the Truth found in His Word. So, I am praying for those people, too. That they will somehow have the chance to hear and clearly understand WHO Christ is and
WHAT His death on the cross and resurrection from the dead really mean. Will you please remember to pray for the people of Paraguay with me – those who know Christ, and those who have yet to hear??
And as always, thank you for being a part of my ministry! Without you guys praying and supporting me, this task would be impossible! I'm praising the Lord for you! And, if you have questions about my trip, please don't hesitate to ask! You can comment here, or shoot me an email! I'd love to fill you in as much as I can!! 🙂 katiemaesawyer@gmail.com