Full Atonement! Can It Be?
I have had "Hallelujah! What a Savior" in my head a lot lately. The line that I have been dwelling on specifically is "'Full Atonement!" Can it be? Hallelujah! What a Savior!" What an amazing Truth to think about – Christ died to make FULL  ATONEMENT for my sin (and the
sins of the entire world!) so that I could be reconciled to God. Romans 5:11 says, "More than that, we also rejoice in God through our Lord Jesus Christ, through whom we have now received reconciliation."  I owe nothing. Christ paid it all. These are sobering thoughts.
And, naturally because of my "line of work", I think of the millions of people who don't know this truth. My mind thinks of the thousands of tribal people in Paraguay who don't know this truth, and never will unless someone is given the privilege to go tell them. Which brings it right back to me.  I have been given this privilege and responsibility to go and spread the Good News to these people that do not know what it is like to be friends with God. These people groups are lost and dying without having atonement because they have never heard of it. I am praying that one day SOON I will be able to lead these people into a relationship with the Father so that they can KNOW and EXPERIENCE for themselves what it is like to be friends with God!
And, I've got some pretty exciting news! I am currently at 51% of the monthly support I need in order to go and minister in Paraguay! The Lord has blessed me so abundantly with people and churches who desire to see lost tribal people in Paraguay reached with the Good News of Jesus Christ. These people and churches are giving so that I can go because they cannot go themselves.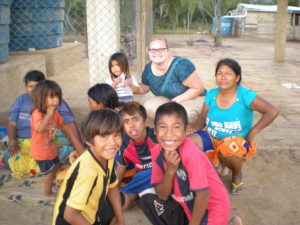 My ministry is an extension of their ministry. Together, we are taking the Gospel to a tribal group in Paraguay who is otherwise without any hope of atonement. I am PRAISING THE LORD, He is making the way!
Here's the words to that wonderful hymn, "Hallelujah! What a Savior" for you to read over and consider yourself. Enjoy.
Man of Sorrows! what a name
For the Son of God, who came
Ruined sinners to reclaim.
Hallelujah! What a Savior!

Bearing shame and scoffing rude,
In my place condemned He stood;
Sealed my pardon with His blood.
Hallelujah! What a Savior!

Guilty, vile, and helpless we;
Spotless Lamb of God was He;
"Full atonement!" can it be?
Hallelujah! What a Savior!

Lifted up was He to die;
"It is finished!" was His cry;
Now in Heav'n exalted high.
Hallelujah! What a Savior!

When He comes, our glorious King,
All His ransomed home to bring,
Then anew His song we'll sing:
Hallelujah! What a Savior!

Philip P. Bliss, 1838-1876