Hello, Friends!!
This has been a month jam-packed with goodness! (And some not so good weather – 103 degrees is too hot for Michigan!)
It has been an exciting month for me! My newest niece, Livie Marie Rockafellow, was born on July 1st. She's just lovely. I got to spend a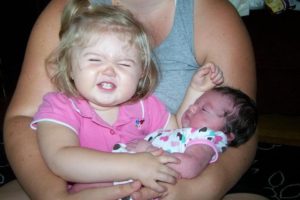 few days staying with my sister, helping out with the baby and Sawyer, Livie's big sister, making meals, etc. I'm so thankful that the Lord saw fit to place my family so close. It's nice to be able to see them as often as I do.
Things have been moving right along for my plans to go to Paraguay. In just this last week alone, there have been 5 people that have said they are joining the efforts to see the lost tribal people in Paraguay reached with the Good News of Jesus Christ by giving monthly gifts! I cannot even begin to express how humbling and encouraging that is! God, my ever faithful Provider, has shown me His grace and love in a new way. He's been so faithful to bring people alongside me who know just the right information that I need, or know people that can help.
I am also excited about a speaking opportunity in September. My old youth pastor, Brian Knight, moved up to the UP to be the senior pastor of a church up there, and when I called to ask him if I might be able to speak there, he said they would be honored to have me! I have appreciated so much the time and effort that he and his wife, Amy, poured into my life while I was in high school (and that was when I felt the Lord was leading me into this very ministry!!), and they really are some of the greatest people in the world. I'm excited to share more with them about Paraguay and how God is working there.
I've been reading in Colossians lately, and I really honed in on this section from chapter 3:
Since you have been raised to new life with Christ, set your sights on the realities of heaven, where Christ sits in the place of honor at God's right hand. 2 Think about the things of heaven, not the things of earth. 3 For you died to this life, and your real life is hidden with Christ in God. 4 And when Christ, who is your[a] life, is revealed to the whole world, you will share in all his glory.
I am coming to understand more and more with each passing day how to focus on Christ and His finished work on the cross that was accomplished for a sinner, just like me. And, not only that, but how amazing that He is sitting at God's right hand interceding on my
behalf!! I now have a part in Him! These kinds of things blow my mind over and over. Which is pretty awesome, right?
But even more awesome is that people are joining me in blowing other people's minds. I will be taking this truth to those who have never heard it before in the remote places in Paraguay. These people will be able to have the same things true of them – Christ died for them, they will be able to spend eternity in heaven with their Creator, Christ will intercede for them, and they will share in His glory, too!!
Thank you for being interested, for praying, and for giving to see the tribal people of Paraguay be able to know and love the Lord Jesus Christ. You are a necessary part of seeing the task accomplished!