Time, Truth, and a Few Other Things
In The Knowledge of the Holy, A.W. Tozer said,
"How completely satisfying to turn from our limitations to a God who has none…For Him time does not pass, it remains; and those who are in Christ share with Him all the riches of limitless time and endless years. God never hurries. There are no deadlines against which He must work."
As many of you know, I had an evaluation in July, testing where I am at in my Spanish language/Paraguayan culture study. I am so excited to say that the Lord has been gracious and allowed me to pass yet another level! So, I am now in the 7th out of the 8 levels that are needed to move on to my next ministry with New Tribes Mission here in Paraguay. As with every other time when I've passed into the next level, I'm moving into much harder concepts and tenses, and I cannot lie, it's proved itself to me a toughie. But God is good and has given me some dear people to live life with here in Paraguay, that are so faithful and patient with this blonde American girl who, lets just say, has quite a bit of learning left to do. 😉 If you would all join me in praying that I would be able to be VERY intentional in these next couple of months to be faithful to study hard, and that the Lord would grant me extra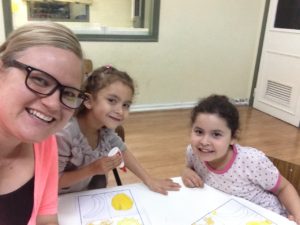 wisdom, strength, and creativity to finish up strong, I would GREATLY appreciate it.
So, that naturally means the topic of my future ministry has come up! I've been waiting a looooong time to be able to say that!! I definitely have every intention of continuing on with the work that NTM is doing here, and continue to count it SUCH a GREAT privilege that God has invited me to share in the work He is doing here, even though being God, He doesn't need me. That being said, this is an area where I would covet all of your prayers. God knows where He could best use me, even if I don't exactly know where that is yet.
Also, September 12th marked my 2 YEAR ANNIVERSARY since moving to Paraguay! As I was reflecting on all that God did to bring me to Paraguay and all the things He has done to keep me here (and doing well!) for 2 years, I am in awe. Who would have thought that God would choose a gal like me from tiny Perry, Michigan, and give me such an awesome opportunity to be a part of His work in spreading His glory in the middle of South America. And not just that, but the blessings that He has provided through bringing me and keeping me here! I can see His grace abounding over and over again.
The way I celebrated my 2 year anniversary was a little bit different than the way that I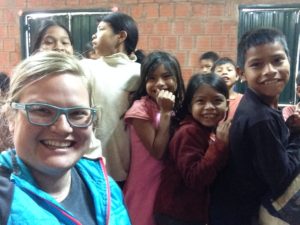 celebrated my 1st anniversary. Last year, I had 2 parties and was able to spend it with lots of lovely people who are very dear to me. This year, however, I spent it in the campo, in the middle of the Paraguayan countryside in a tribal church. I was with missionaries who are working with the Pai Tevytera people. On Saturdays they do "Kid's Club" where about 30 kids come and are taught by one of the Pai ladies who is a believer, and the missionaries help out where they are needed. They are taught from the Chronological lessons, play games, and have a snack.
My missionary friend is also currently teaching some of the older ones how to embroider, so she does that after the kids club. I was able to sit with one ladies learning to embroider and chat with her in Spanish, because she knows some. What a blessing that was! Her heart for the unsaved really came out as she was telling me about her family and with each member she mentioned, she said if they were a believer or not and if they were weak in their faith or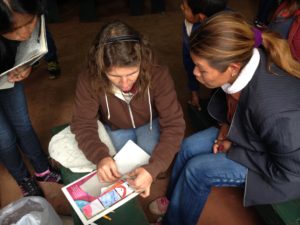 strong. And she didn't just say it once. She said it a few times about each one. What a thrill it was, to hear her, a woman who comes from a culture and belief system of darkness, fear, and death, talk of the salvation we have in the Lord and her desire for others to know! ONLY GOD can accomplish work like that! I would say that that was a PERFECT way to spend my 2 year anniversary, celebrating quietly in my heart the goodness of the Lord.
So what does all this have to do with that quote that I started off with? These past couple months have been reflections on those very thoughts. In and of ourselves, bringing the light of the Truth do a dead and dying world is IMPOSSIBLE without God. It is HIS work and He is the one who is working to accomplish it all, and he just invites us to play a small part.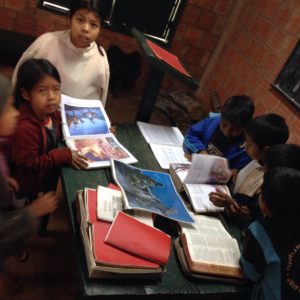 Also, if you remember a few of my earlier posts, I've talked about the time it's taken to get to where I am, and had I had my own way "way back when", I would have learned a lot faster and already been serving in my next ministry. But once again, I am reminded that God is working all things out in HIS time! He is not in a hurry to accomplish His will, and there are no deadlines in His world. When things look like they are "taking too long" to me, it is good to look back and realize all that God does in His timing, and that ultimately that is what is best.
So, I am thankful I can walk forward trusting in and walking with this God who is so powerful, intentional, and unlimited my man, time, or anything else. I am thankful He's invited me to join the work He's doing to make His name great, whether that be here in Asunción, or somewhere else in the future. And, I'm thankful that I can trust in His timing. He always knows best and his timing is perfect.