Uneventful Flights and a FAITHFUL God
Hello Everyone!
Well, I'm here!! It's still so hard to believe, but I am joyful and excited to start this new chapter that the Lord has for me here in Paraguay!
I am also so thankful and appreciative of the hundreds of prayers that so many of you were involved in bringing before the Father before the Throne of Grace on my behalf! I could definitely feel the peace of God during the trip down, as well as entering into the country. Besides being sick (I'm thinking it's tonsillitis, but I am on amoxicilin for it, and am thankfully feeling a bit better already), my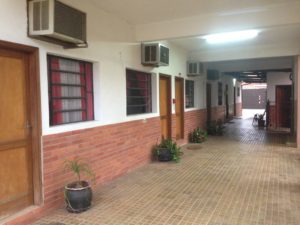 flight and all my connections went so smooth! I was even able to catch up on a bit of rest, since I only got a max of 2 hours of sleep the night before (we left my house at 2:30 am!).
When I landed, my immigration into the country went so great! When I got back here to the Mission offices, I found out that I should have been required to have a round trip ticket, seeing how I came down on a tourist visa, but the Lord was taking care of me (and also making it very easy on me!) and the officers never even asked me one question, which is really rare anyway.
And, praise the Lord, all of my luggage made it from Detroit to Asuncion, Paraguay with NO PROBLEMS (0r second charges!), and everything was intact! That was probably one of my biggest concerns for the day of travelling, and the Lord took care of everything for me! Customs was a breeze, which was SO nice! They scanned all my bags, but didn't bother opening any of them, and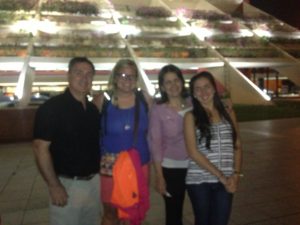 actually never even scanned my backpack or purse!! Yet again, another rare thing because they are required to open at least one of each person's bag.
And, it was nice, I landed an hour early! I know, so great, right?! The only unfortunate thing about that was that it meant that people from my church here were unable to make it out to greet me. I was, however, greeted by a couple that is serving here with NTM, as well as my host family, the Cáceres (here are 2 daughters missing from this picture). They are a lovely family that goes to my church here, and I was able to go have breakfast with them this morning, and am already so thankful for them and their willingness to help me with this transition.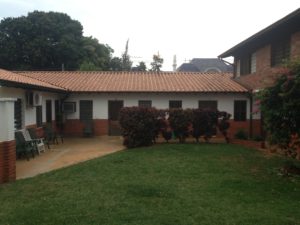 For now, I am staying in the NTM-Paraguay guest house. My "apartment" is one of the middle doors behind the bushes. I've included some other pics of what the NTM-Paraguay property looks like. It's beautiful today, and actually a bit chilly! I'm going to have to put on a sweater to go out tonight!
What am I doing tonight, you wonder? I'm going to my churches "youth group", which consists of single people in the church from the ages of 18-30. My host family will come pick me up and take me with their daughters. It will be my first "big event", so if you don't mind praying for me, that would be awesome! It starts at 8 pm (MI time and my time — we are in the same time zone!!). 🙂
God is so awesome and great. I am amazed at His love, concern, and care for me. I am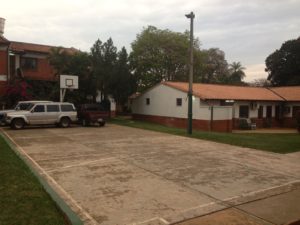 SO THANKFUL for His hands leading and guiding each step I took to get me here to Paraguay. I am simply amazed at His goodness. I'll be praying that you, too, will be able to see all these things in your lives as well, because I know He loves and cares about you, too, and it is an awesome and great thing to behold.
THANK YOU again for your prayers and support! I am so grateful and thankful for you all, and I am so glad I am not going on this journey alone! Love and miss everyone already!! 🙂